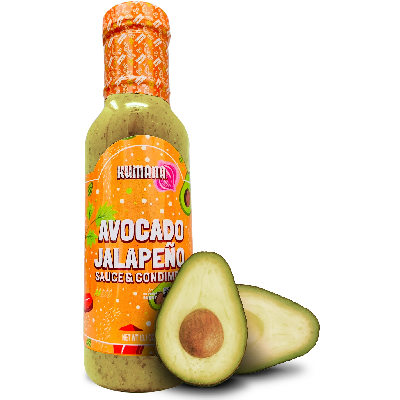 Think of it as a flavor-forward heat experience thanks to its rich ingredients, including avocados, cilantro, ripe chili peppers, bell peppers and parsley. This sauce adds fresh and vibrant flavors with a slight kick to keep your taste buds tingling. Enjoy it as a marinade, sandwich spread, or as a finishing sauce. 
Mild to Medium Heat: Great on eggs, tacos, sandwiches, rice, and much more. Mix it with ranch to create a delicious dip or dressing. Use it to complement or substitute mayo in chicken salads, egg salads, and sandwiches.
Keto Certified, Paleo, Plant Based.
0 Grams of Sugar per Serving.
Gluten Free.
Non-GMO Verified.
No Canola, Soy or Dairy.
Size: 13.1 Fl Oz (371 g)
Related Products
---