ANGRY GOAT, PINK ELEPHANT Cranberry Ghost Pepper Hot Sauce
---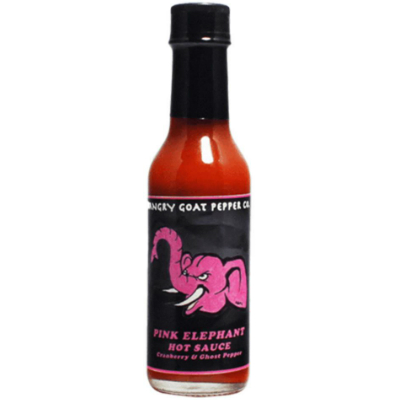 Angry Goat Pepper Co., makes all their products in small, handcrafted batches in Vermont.
"Pink Elephant" Hot Sauce has a light, fruity, slightly sweet flavor with the lasting burn of Bhut Jolokia (Ghost) peppers. Cranberries, Ginger, and Ghost Peppers – do we need to say more?
Has anyone seen the Pink Elephant in the room?
Try "Pink Elephant" on poultry, pork, eggs, pizza, or in mixed drinks.
SIZE: 5 Fl Oz (148 mL)
INGREDIENTS: Cranberries, Pure Cane Sugar, Apple Juice, Habanero Peppers, Jalapeno Peppers, Red Bell Peppers, Apple Cider Vinegar, Bhut Jolokia (Ghost) Peppers, Pomegranate Juice, Fresh Ginger.
Related Products
---