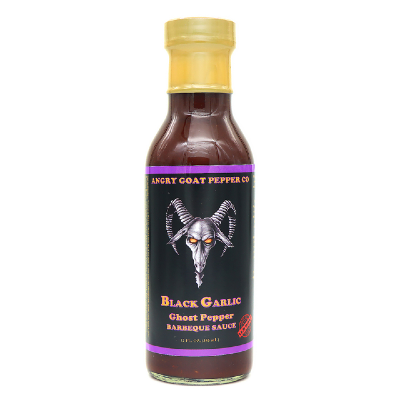 At Angry Goat Pepper Co. we make all of our production small, handcrafted batches in Vermont.
Our Black Garlic BBQ Sauce is a thick, savory, and complex sauce that has layers of flavor.  The Black Garlic provides an earthly, slightly chocolatey undertone with an accompanying layer of garlic.  The Ghost Pepper livens up the sauce, and surely your mouth.  The BBQ sauce is meant of those who like it hot and flavorful.
Try on ribs, chicken, sautéed veggies, burgers, French fries or brisket.
 SIZE: 12 Fl Oz (355 mL)
INGREDIENTS: Tomato paste, Roasted Red Peppers, Brown Sugar, Apple Cider Vinegar, Molasses, Worcestershire Sauce, Water, Ghost Pepper Mash, Balsamic Vinegar, Black Garlic Powder, Granulated Garlic, Gluten Free Tamari Soy Sauce, Sea Salt, Smoke Paprika, Allspice.
Allergen Warning: Contains Fish (Anchovies) and Soy.
Related Products
---