ANGRY GOAT, "COOL" HIPPO Prickly Pear & Cayenne Hot Sauce
---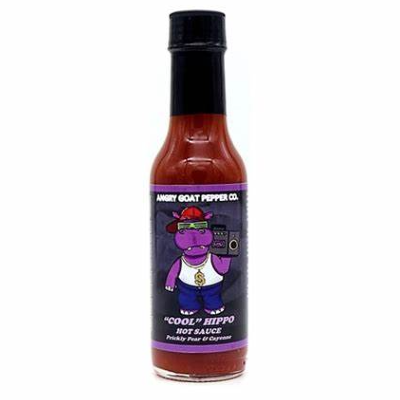 Angry Goat Cool Hippo takes the flavors of Angry Goat's super popular Purple Hippo, and knocks down the heat a number of notches.
Cool Hippo combines the unique flavor of prickly pear, with the sweetness of agave, strawberries, and cane sugar. A mild heat from cayenne and jalapeño peppers, with a bright splash of lemon and lime, make this a great sauce to add immense flavor, with just a touch of heat. 
We love this with ice cream, tacos, cream cheese, and eggs. You gotta try this sauce!
Made in Vermont.
Heat: Mild
SIZE: 5 Fl Oz (148 mL)
INGREDIENTS: Prickly pear cactus juice, agave nectar, cayenne peppers, jalapeño peppers, red bell peppers, apple cider vinegar, strawberries, pure cane sugar, lemon juice, lime juice, sea salt, cayenne pepper powder, scorpion pepper powder.
Related Products
---