TORCHBEARER SAUCES, PSYCHO CURRY SAUCE
---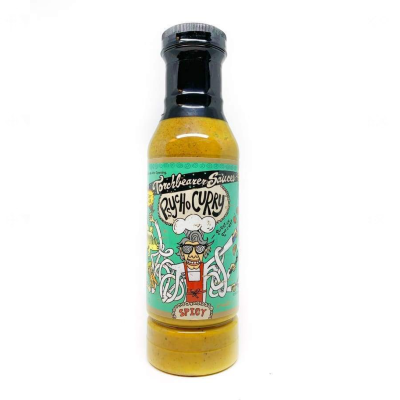 Do you like curry? Do you hate how long it takes to prepare? Well let us curry you favor with our indian-style garlic curry sauce. With Torchbearer Sauces' Psycho Curry, everything is a curry dish. Such as… curry lamb, curry ka-bobs, curry rice, curry veggie stir-fry, curry pork chops, curry meatloaf (sorry if we're getting curryed away with ourselves) curry pizza, curry wings, curry dips, curry tacos, curry shrimp, curry soup, curry sandwiches, curry burgers… you get the point. So what's for dinner? Don't curry about it. We got you covered. Psycho Curry; Qu'est-ce que c'est din-din-din-din–diner is da-da-da-done!
Size: NET WT 12 Oz (340 g)
Ingredients: GARLIC, CANOLA OIL, DISTILLED WHITE VINEGAR, LIME JUICE, WATER, HABANERO PEPPER, CORIANDER, TUMERIC, GROUND RED PEPPER, FENUGREEK SEED, FENNEL SEEDS, MUSTARD POWDER, CUMIN, CHILI POWDER, BLACK PEPPER, CLOVES, SALT.
Related Products
---