TORCHBEARER SAUCES, HONEY GARLIC SAUCE
---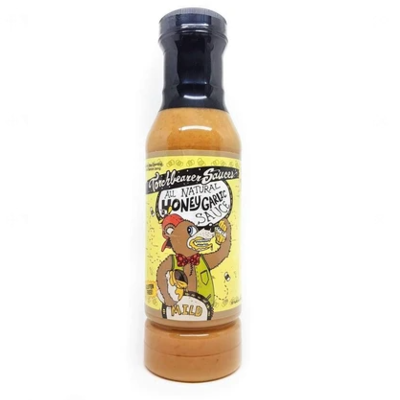 Sweet and savory. Are there any two words that you like seeing together more? Originally made to be a wing sauce, our Honey Garlic has morphed into an all around topper and marinade that has no equal. We love it as a salad dressing, a sandwich enhancer, a stromboli and chicken finger dip, a pork and chicken marinade, and even a welcome addition to most crock pot recipes. There really isn't a sauce out there like this and, once you've tried it, you'll wonder why it took this long. Viva la Honey Garlic!
SIZE: 12 Fl Oz (355 mL)
INGREDIENTS: Honey, Vinegar, Garlic, Vegetable Oil, Lemon Juice, Carrots, Mandarin Oranges, Tomatoes, and Other All Natural Spices.
Related Products
---