Qball's QRANKTUP - Ghost Chile Seasoning
---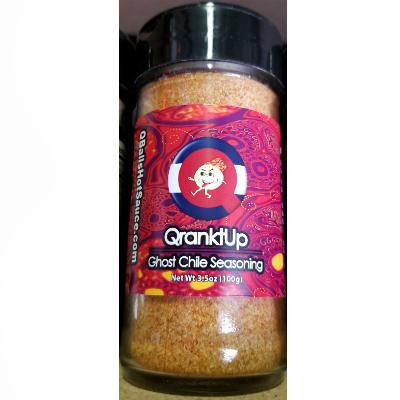 Qball's Hotsauce
QRANKTUP
NET WT 3.5 oz (100 g)
Medium-Hot, Heat Index (9/10) 
If you are looking for that special gift for the Gourmet cook or Chile Head in your life, look no further. QranktUp is great on everything from pizza to pasta, eggs to French fries, and of course in that pot of chili you've been savoring.  Don't forget it for your next Taco Tuesday!

I created this special blend to replace the salt & pepper at my dinner table and perhaps you will too!

The Ghost Chiles give it a heat that leaves you craving more (after the tears and pain subside) and the Pink Himalayan Sea Salt brings a wonderful mix of minerals your taste buds will never forget!
Ingredients:
Himilayan Pink Sea Salt, Garlic; Cayenne and Bhut Jolokia (Ghost) Chiles; and Cumin.
DOES NOT CONTAIN:
*CHOLESTEROL   *

EGGS     *

FAT     *

GLUTEN     *

MILK    

*PEANUTS     *

SEAFOOD     *

SOY     *

WHEAT
Related Products
---