PAPPY'S, Fighting Cock BBQ Sauce
---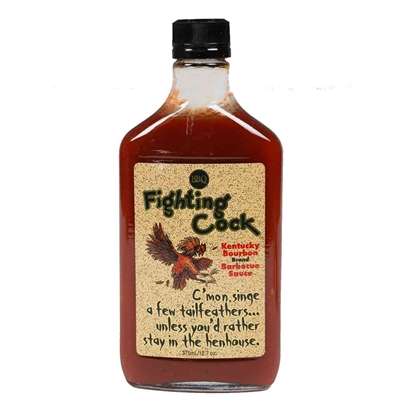 Fighting Cock Kentucky Bourbon is one of the first bourbons on the market designed specifically for those who like a little "kick" in their cocktail. Fighting Cock Kentucky Bourbon BBQ Sauce is cut from the same cloth. This is a dynamic barbecue sauce that will let you know you're not cooking with your average chicken-!@#% barbecue sauce. Wing-type hot that will definitely put the chicks in heat.
SIZE:  12.7 Fl Oz (375 mL)

INGREDIENTS:  Tomato Sauce, Sugar, Vinegar, Hot Sauce, Fresh Onions, Fresh Garlic, Chile Pepper, Paprika, Corn Starch, Natural Hickory Smoke Flavoring, Oil of Capsicum, Fighting Cock Kentucky Bourbon.
From Kentucky.
Related Products
---