merfs, dancing queen Hot Sauce
---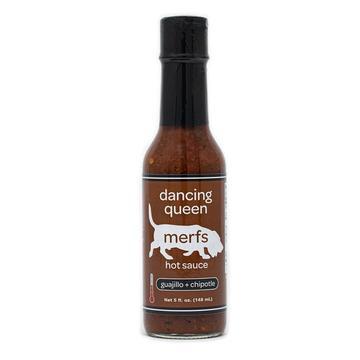 It's Merfs' first chipotle hot sauce and we made a sauce that's different than the other chipotle sauces you'll find. It's peppery and tangy with a hint of chipotle, and the finish is sweet fire. It's tart and slightly acidic while embracing the fruitiness of the guajillo peppers and honoring the earth of the chipotle meco.
SIZE:  5 fl oz
HEAT LEVEL: Medium 5/10
Pairings: Marinate pork. Breakfast. Add to chili. Barbecue. Chipotle ranch. Pizza.
Dietary Notes:Gluten Free, Vegan, Preservative Free
Ingredients: apple cider vinegar, red bell pepper, roasted onion, garlic, sugar, guajillo chili, chipotle meco, salt, ghost chili
Related Products
---