merfs, hand grenade Hot Sauce
---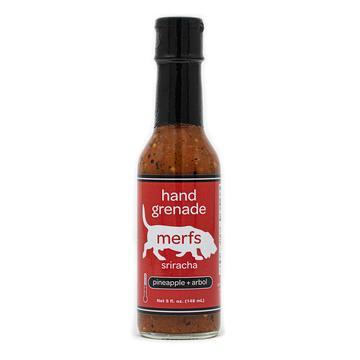 It's a deeply fiery, richly umami sriracha sauce with a slightly sweet citrus finish. It's sweetened with pineapple instead of sugar and doesn't contain any preservatives. It's Merfs' classic red hot sauce, and a great alternative to the traditional sriracha.
SIZE:  5 fl oz
HEAT LEVEL: Medium 7/10
Pairings: Burgers. Ramen. Spice up pasta, bloody mary, or michelada. Marinate chicken.
Dietary Notes: Gluten Free, Vegan, Whole 30, Paleo, Sugar Free, Preservative Free
Ingredients: red bell pepper, pineapple, pineapple juice, white vinegar, chile yunam, garlic, salt
Related Products
---