MELINDA'S, STICKY ASIAN WING SAUCE
---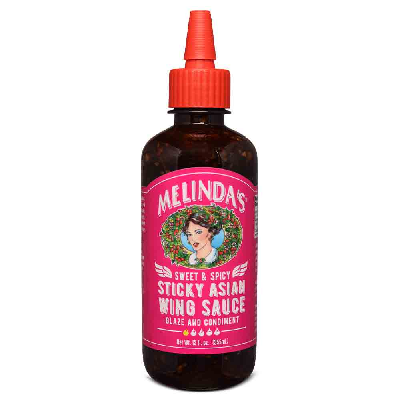 You want fire? That's easy. Anyone can strike a match, but few can strike a balance. A balance where heat and flavor find themselves on equal footing. At Melinda's, we pride ourselves on striking that perfect balance in every sauce we make. Get ready to set your mouth on flavor.
Melinda's Sticky Asian. The umami bomb, wet naps required. This sweet, savory & spicy blend is made with soy, ginger, garlic, red chiles and honey for the sticky win. Made the Melinda's way: with whole, fresh ingredients and the best peppers on the planet for people who care about those kinds of things. Use liberally for the best Asian wings you have ever had. For other meats & veggies, try this one as a glaze on ribs and roasts.
Heat Level: 
INGREDIENTS: White vinegar, Cayenne pepper mash, brown sugar, white cane sugar, soy sauce, water, rice vinegar, honey, ginger, lime juice, salt, garlic flakes, modified starch, sesame oil, natural color (caramel), citric acid, lemongrass powder, xanthan gum.
Allergy Information: Contains soybeans. May contain traces of tree nuts (coconut), egg, milk.
Kosher
Related Products
---