MELINDA'S, HABANERO Ketchup
---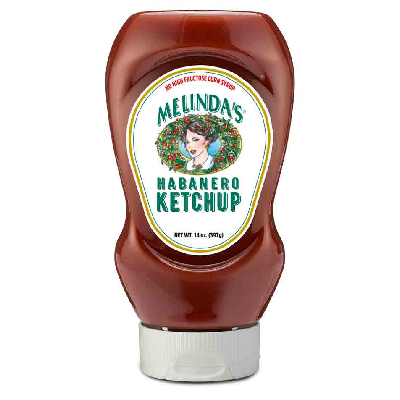 Melinda's is famous for its all-natural balance of heat and flavor. Melinda's Habanero Ketchup continues this tradition by using only the freshest all natural ingredients blended perfectly with the fiery habanero pepper. The result is a rich and tangy Ketchup with a bold flavor. One try and you'll never use regular ol' ketchup again.
SIZE:  NET WT 14 Oz (397 g)
INGREDIENTS:  Tomato Paste, pure cane sugar, glucose, choice red habanero peppers, salt, starch, vinegar, garlic pulp, citric acid, onion powder, ascorbic acid, spices.
CAUTION: Avoid contact with eyes and sensitive areas. Keep away from children and pets! USE RESPONSIBLY!!!
All Natural
Gluten Free
No GMO's
No Artificial Preservatives or colors
No High Fructose Corn Syrup (HFCS)
Kosher
Related Products
---