BOURBON Q, Kentucky Oaks, BARREL SELECT Kentucky Bourbon Grilling Sauce
---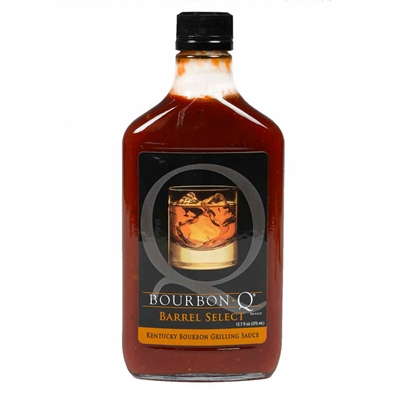 Top shelf grilling sauce for steaks, ribs, chicken, tuna or scrambled eggsthe morning after. Beginning with a sweet note, Barrel Select leads you through a cascade of flavors, bouncing from fresh garlic, caramelized onion, and the earthy essence of worcestershire. This blending of flavors is perfectly balanced with the unexpected and ever-so subtle arrival of habanero. A richly distinguished condiment for anything grilled. 

SIZE:  12.7 Fl Oz (375 mL)
INGREDIENTS:  Tomato sauce (water, tomato paste, salt), sugar, hot sauce (peppers, vinegar, salt), vinegar, spices, fresh garlic, fresh onion, modified corn starch, Kentucky Bourbon (0.45%), Worcestershire sauce (distilled vinegar, molasses, corn syrup, water, salt, caramel color, garlic powder, sugar, spices, anchovies and natural flavorings) , thickener (xanthan gum), corn syrup, lemon juice, lemon oil, habanero pepper, acid (citric acid).