Qball's BLAQ - Exotic Salt & Super-Hot Pepper
---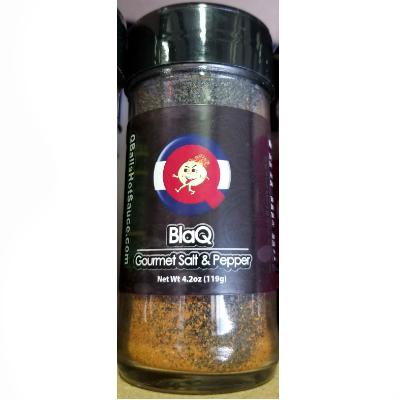 Qball's Hotsauce
BLAQ
NET WT 4.20 oz (119 g),
Hot, Heat Index (8/10) 
BlaQ is a great way to season and tenderize meats before you cook them.  My favorite use is on Pork.  You rub that pork roast with some BlaQ and let it marinate over night, then slow cook it to perfection.  The Hawaiian Black Lava Sea Salt acts as a tenderizer and the activated carbon makes sure those juices don't just evaporate. Almost forgot....Babybacks are phenomenal with just the right amount of heat from the Ghost Chile. You really don't even need BBQ sauce, but BlaQ blends well with every BBQ sauce I have tried.
DOES NOT CONTAIN:
*CHOLESTEROL   *

EGGS     *

FAT     *

GLUTEN     *

MILK    

*PEANUTS     *

SEAFOOD     *

SOY     *

WHEAT
Related Products
---