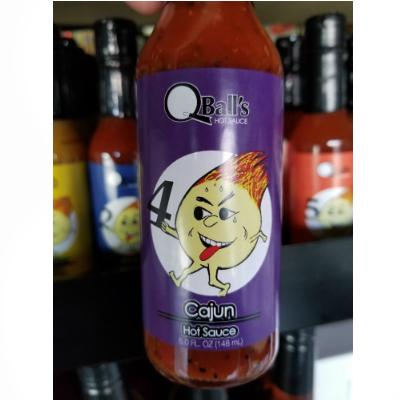 Qball's Hotsauce
4 BALL CAJUN 
5 fl oz,
Hot, Heat Index (4/10),
Enhances any dish, but particularly Shrimp, Crawfish, Catfish, Chicken, Gumbo, Jambalaya, Chips, Fries, Rice, Po' Boy, Muffuletta, and I'm just getting warmed up.  This delightful blend of Cajun ingredients brings a taste of the bayou to your table.  Grab yours today and Keep it Hot Chile Heads! 
Ingredients: Cayenne peppers, garlic, onion, vinegar, and spices.
DOES NOT CONTAIN:
*CHOLESTEROL   *

EGGS     *

FAT     *

GLUTEN     *

MILK    

*PEANUTS     *

SEAFOOD     *

SOY     *

WHEAT
Related Products
---