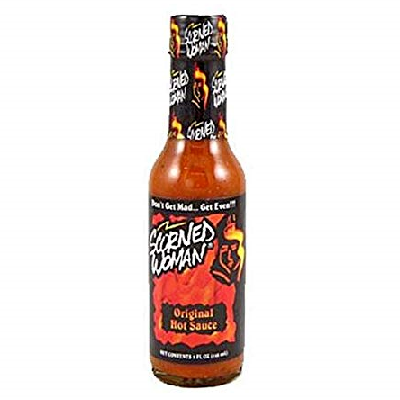 Scorned Woman hot sauce delivers big heat and a smooth flavor that compliments most meals that need some spice. Ariel is a scorned woman who has a story to tell, a story so hot that she named her hot sauce after it. Continue reading for the legend of Ariel and her scorned woman hot sauce.
Philippe loved Ariel but he took her for granted and had a roving eye too. Ariel worked her job, cooked, cleaned, and generally took care of him. More and more Philippe would get up from the table at night and sashay down to the roadhouse and flirt with the girls. Ariel started to get so angry about this that she developed a tic. She could hardly talk about it without crying and grinding her teeth. Then her sister reminded her of old Mama Loo, who lived down by the marsh. Mama Loo was the only practicing psychologist and herbalist in those parts so Ariel went to see her.
He kept eating and crying and sweating and eating until something inside that boy broke. He told Ariel that he knew now that he had been treating her wrong and that if she could just give him some more of whatever that was he would do anything to make it up to her. Ariel smiled and said, "why don't you just do the dishes and clean up a little and when I get home tonight I'll start plannin' tomorrow's supper". Then she grabbed her bag and headed off to the roadhouse to flirt with the boys.
SIZE:  5 Fl Oz (150 mL)

INGREDIENTS:  Vinegar, Water, Dehydrated Peppers (aged tabasco, red, black, habañero, jalapeño), Lemon Juice Concentrate, Salt, Black Pepper, Natural Flavors, Xanthan Gum, Potassium Sorbate and Sodium Benzoate (preservatives).