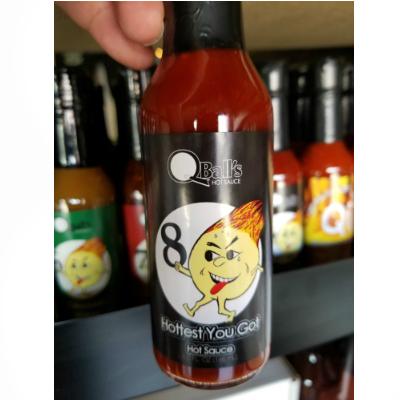 Qball's Hotsauce
8 BALL - HOTTEST YOU GOT - Carolina Reaper Hot Sauce
5 fl oz,
Super Hot, Heat Index (27/10) 
What do you get when you mix Fresh Carolina Reaper Chiles with great taste?.....Flavor Fire!  The perfect blend of molasses brings out the sweetness of the Carolina Reaper before you feel the gradually intensifying throat sizzle.  8 BALL definitely brings the heat, Heat Rating (27/10). Grab an extra bottle for the fire eater in your life!! 
INGREDIENTS: Carolina Reaper, Trinidad Scorpion & Habanero chile peppers, vinegar, molasses, and salt.
DOES NOT CONTAIN:
*CHOLESTEROL   *

EGGS     *

FAT     *

GLUTEN     *

MILK    

*PEANUTS     *

SEAFOOD     *

SOY     *

WHEAT
Related Products
---