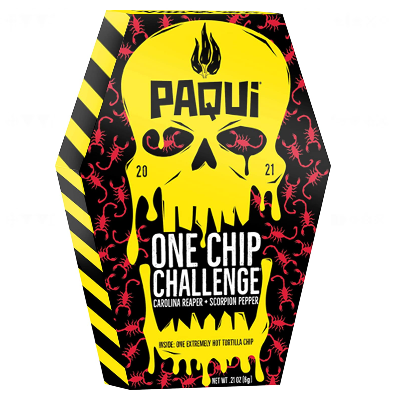 YOU'VE NEVER EXPERIENCED THE
 

ONE CHIP CHALLENGE®

 

LIKE THIS BEFORE!
This year's chip is all thriller, no filler with two totally terrifying peppers: the infamous Carolina Reaper and the stinging Scorpion Pepper. Are you ready to face the Reaper?
Made with two of the spiciest Chile peppers on the planet, The Carolina Reaper pepper and Scorpion Pepper, This straight-from-hell chip was created for the sheer pleasure of intense heat and pain.

How to take the one chip Challenge: 1) eat the entire chip 2) Wait as long as possible before drinking or eating anything 3) post your reaction on social media with #onechipchallenge and mention @paquichips

A single coffin contains one individually wrapped world's hottest chip.

Warning: Do not eat if you are sensitive to spicy foods

Do you dare attempt the Paqui One chip Challenge?
DO NOT EAT IF YOU ARE SENSITIVE TO SPICY FOODS, ALLERGIC TO PEPPERS, NIGHTSHADES OR CAPSAICIN, OR ARE PREGNANT OR HAVE ANY MEDICAL CONDITIONS. KEEP OUT OF REACH OF CHILDREN. AFTER TOUCHING THE CHIP, WASH YOUR HANDS WITH SOAP AND DO NOT TOUCH YOUR EYES OR OTHER SENSITIVE AREAS. SEEK MEDICAL ASSISTANCE SHOULD YOU EXPERIENCE DIFFICULTY BREATHING, FAINTING OR EXTENDED NAUSEA.
SIZE: NET WT 0.21 Oz (6 g)