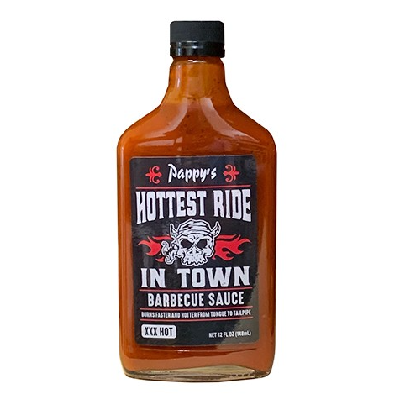 Arguably the Hottest BARBECUE sauce on the market today, this sauce is considered a solid 10 on a heat scale of 0 -10. Keep in mind chile heads, this is NOT a hot sauce, I said BARBECUE SAUCE with all the heat most normal humans would ever consider ingesting at a sitting!! The difference between most shock hot sauces and Hottest Ride, is that we give you a great Barbecue flavor and then the most heat we can jam into the sauce to compliment your cookout.
SIZE:  12.7 Fl Oz (375 mL)

INGREDIENTS:  Tomato Sauce (Water, Tomato Paste, Salt), Sugar, Vinegar, Fresh Garlic, Fresh Onion, Chile Pepper, Paprika, Modified Food Starch, Natural Hickory Flavoring, Oil of Capsicum, Kentucky Bourbon (<3% by volume), Worcestershire Sauce (Distilled Vinegar, Molasses, Corn Syrup, Water, Salt, Caramel Color, Garlic Powder, Sugar, Spices, Anchovies and Natural Flavorings), Black Pepper, Xanthan Gum, Spices, Lemon Powder (Corn Syrup, Lemon Juice with added lemon oil), Habanero Pepper and Citric Acid.
From Kentucky.
Related Products
---