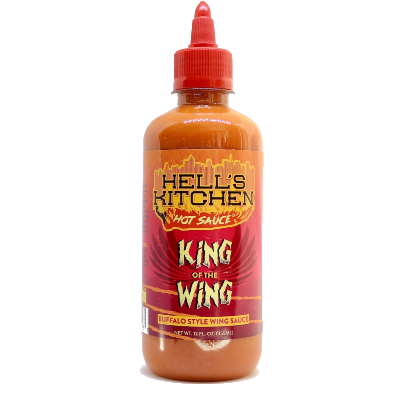 Our take on a classic Buffalo style sauce with a twist. We use a blend of Ghost, Cayenne and Habanero peppers to bring Depth of flavor as well as a healthy (but not overwhelming) heat level. Use as a condiment to spice up Pasta, chicken fingers, pork, pizza, eggs, Mac and cheese and of course, wings!
SIZE:  12 Fl Oz (355 mL)
INGREDIENTS: Water, White Vinegar, Habanero Pepper Mash, Carrot, Bhut Jolokia Pepper Mash (Ghost Pepper Mash), Canola Vegetable Oil, Lime Juice, Salt, Garlic, Xanthan Gum, Natural Flavor (Butter).
Allergy Information: May contain traces of tree nuts (coconuts)
Related Products
---