GIFT BOXES
BOURBON Q, BBQ 3 PACK - CLASSIC, BARREL SELECT, GOLD RESERVE
---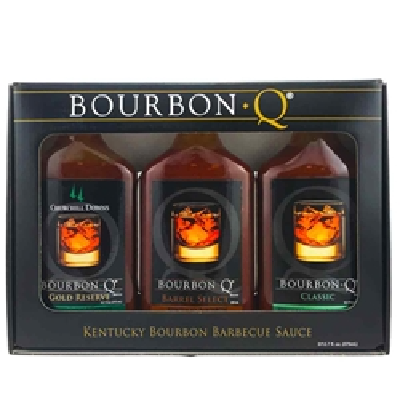 Bourbon Q Gold Reserve Roasted Garlic and Chipotle Kentucky Bourbon BBQ Sauce, 12.7oz.: A cherished classic in its own right, BourbonQ Gold Reserve is not for the faint of heart. Although not classified as hot, it definitely holds its own. Bourbon Q Gold Reserve Barbecue Sauce is robust in its base of tomato and worcesterchire with a flavor that will be fighting for your attention. The smoky note and heat of chipotle merge and vie for your attention over the hearty flavor of roasted garlic. Bourbon Q Gold Reserve is an absolute necessity when the spice of life is called for. Barbecue chicken will never be the same.
SIZE:  3 X 12.7 Fl Oz (375 mL)
Contains One (1) bottle of each Bourbon Q Gold, Bourbon Q Classic, and Bourbon Q Barrel Select.
Related Products
---