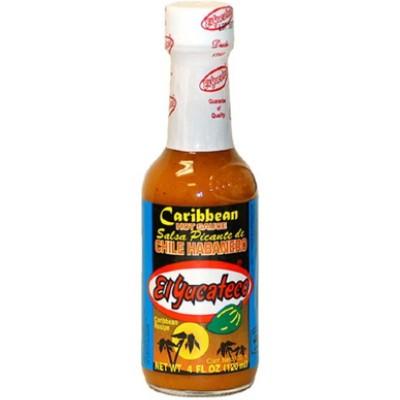 El Yucateco Caribbean Hot Sauce
One of our all-time best sellers. Elaborated with one of our classic recipes based in habanero chilies and red tomatoes with fine spices and select seasonings. Its special consistency allows it to satisfy the most strict palate. Ideal to accompany any kind of meal, especially seafood. Try a shrimp cocktail with this delicious hot sauce. Prepare bloody mary, michelada (beer mix) or sangria with tequila.
HOT ONES SEASON 1 SAUCE 3 (5,400 SHU)
From Mexico.
SIZE: 4 Fl Oz (120 ml)
INGREDIENTS: Water, Habanero Pepper, Carrot, Salt, Spices, Acetic Acid, Onion Powder, Citric Acid, Xanthan Gum, Potassium Sorbate, Citric Acid, Calcium Disodium EDTA.
Related Products
---