BLAIR'S
BLAIR'S, JALAPENO DEATH Hot Sauce
---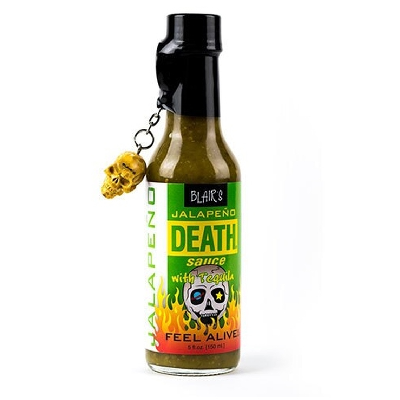 Death Sauce is dangerously delicious.

A hot sauce so divine, it should be doused on every dish. Do your eggs a favor and have Death for breakfast. And fish? Fugetaboutit! Feel Alive with Blair's Jalapeño Death, and enjoy your escape to jalapeño heaven. Fresh jalapeños, tomatillos, and blue agave tequila are beautifully blended to pack a south-of-the-border punch.

To experience this Death is delightful.
SIZE: 5 Fl Oz (148 mL)
INGREDIENTS: Fresh Jalapeno Chiles, Vinegar, Tomatillos, Fresh Garlic, Key Lime Juice, Shallots, Olive Oil, Sea Salt, Cilantro, Cane Sugar, Onion, Tequila, Spices, and Xanthan Gum. 
Related Products
---